click catcher to return to homepage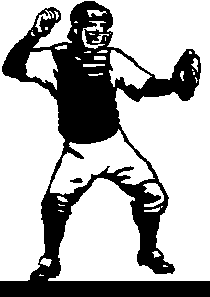 JOSH GIBSON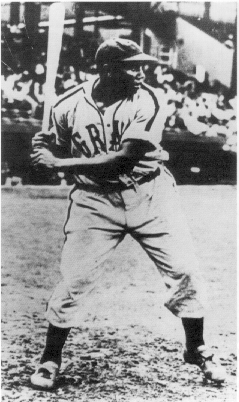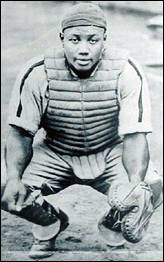 Josh Gibson was one of the greatest baseball players of his time...of all time. He is believed to have hit more home runs than any player in the history of "professional" baseball. He played in the Negro Leagues, when Blacks were barred from Major League baseball competition. It is generally believed by those who followed his career, that Mr. Gibson hit in the vicinity of 972. By all accounts Gibson homeruns were monster blasts that would make Barry Bonds proud.

Josh Gibson was born on December 21, 1911 in Buena Vista, GA. His family moved to Pittsburgh, Pa. in the 1920s. There he played for the Pittsburgh Crawfords and the Homestead Grays of the Negro League.

They say that the secret to Gibson's home run prowess was a short, compact swing that produced incredible power. As Max Manning, a former pitcher with the Newark Eagles describes it, "I never saw Josh take a leaving-the-ground swing. It was always a smooth, quick stroke. A lot of guys would swing, the ground would shake, the air would move, and their hats would fly off. But, he'd just take that short, quick stroke, and that ball would leave any ballpark." As a result of always being in good balance, Mr. Gibson hit for power and average. There wasn't a ball pitched near the plate that he wasn't in position to hit.

On January 20, 1947 Josh Gibson died of a stroke, brought on by a brain tumor. He was just 35 years old.

Josh Gibson was inducted to the Baseball Hall of Fame in 1972. His Hall of Fame plaque says the catcher hit 'almost 800' home runs in a 17 year career. Those who know anything about him swear that he hit at least the celebrated 972. And maybe more. Ask Barry, Hank, Willie, and Babe. They know. Apparently, Mr. Gibson hit one out of Yankee Stadium...(or, at least came doggone close). If true, Josh Gibson would be the only player to have ever accomplished that feat.
Homestead Grays 1930-31, 37-39, 42-46
Pittsburgh Crawfords 1932-36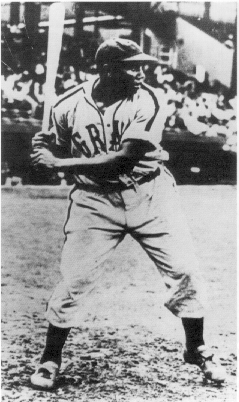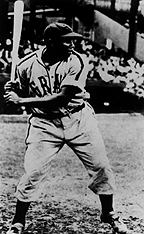 --------------------------------------------------------------
ON BASEBALL TODAY
"The best is whatever you get out of yourself. That's all I'm trying to do." -- Barry Bonds February 23, 2005

IN LIGHT OF SO MANY THINGS BEING SAID, REPORTED, RUMORED ABOUT MR. BARRY BONDS, WE, THE FOUNDERS AND PROMOTERS OF THE JOSH GIBSON BOMBERS BASEBALL CLUB, WOULD LIKE TO MAKE CLEAR THAT WE SUPPORT MR. BONDS COMPLETELY AND WISH HIM WELL IN ALL OF HIS ENDEAVORS. FURTHER, WE'D LIKE TO SAY, "KEEP DOING WHAT YOU'RE DOING, MR. BONDS. KEEP GOING AFTER YOUR GOALS WITH THE HEART AND DEDICATION THAT IS INSPIRING TO ALL OF US WHO RECOGNIZE AND APPRECIATE YOUR GREAT WARRIOR SPIRIT AND IMMENSE TALENT. HERE'S WISHING YOU AND YOUR GIANTS TEAMMATES GOOD LUCK IN YOUR QUEST FOR THE WORLD SERIES IN 2005. HURRY UP AND GET WELL...AND BACK OUT ON THE BASEBALL FIELD. WE MISS YOUR EXCELLENCE".

ON MARK MCGWIRE: IT WAS A JOY TO WATCH MR. MCGWIRE PLAY WHEN HE WAS STILL IN THE GAME, AND WE WISH HIM NOTHING BUT THE BEST IN HIS RETIREMENT. THANK YOU MARK MCGWIRE. YOU GET NOTHING BUT RESPECT, GOOD WISHES, AND APPRECIATION FROM THIS CORNER OF THE UNIVERSE.

WHILE WE DO NOT CONDONE THE USE OF STEROIDS, WE FEEL THAT THE ISSUE IS BEST DEALT WITH BY MAJOR LEAGUE BASEBALL, THE COURTS, AND THE PLAYERS AND COACHES THEMSELVES. ACCUSATIONS, RUMORS, INNUENDO, SPECULATION AND TELL-ALL BOOKS LEAVE TOO MUCH ROOM FOR THE KIND OF ERROR AND INACCURACY THAT CAN HARM THE INNOCENT AND HURT THE GREAT GAME OF BASEBALL. THERE IS NO WAY TO RESOLVE THE PRESENT SITUATION FAIRLY. TOO MANY UNCERTAINTIES. WHO DID WHAT? HOW MUCH? WHEN IN THEIR CAREER DID THEY DO IT? HOW LONG? WHAT EXACTLY DID THEY DO? DID IT MAKE A DIFFERENCE? ----- SOME PLAYERS ARE BOUND TO BE UNJUSTLY DESTROYED, WHILE OTHERS WILL NEVER BE FOUND OUT. BEST SOLUTION IS THE ONE OFFERED BELOW. START FROM NOW.
"IF THEY WANT TO STOP STEROIDS IN BASEBALL, STOP IT FROM THIS POINT FORWARD. NO NEED FOR A CIRCUS. MAKES NO SENSE TO WITCH-HUNT PLAYERS FOR PAST ACTIVITIES. NO WAY THAT CAN RESULT IN AN ACCURATE ACCOUNTING. IN THE INTEREST OF FAIRNESS AND COMMON SENSE, FOCUS ON STOPPING STEROIDS FROM THIS POINT FORWARD." --SAID BY JIM BROWN, COACH-MANAGER OF THE SEMI-PRO SAN FRANCISCO ANGELS BASEBALL TEAM